ALBARE
- ALBARE PLAYS JOBIM VOL. 2
ARTIST

ALBARE

LABEL

ALFI RECORDS

RELEASE DATE

Jan 08, 2021

ARTIST WEBSITE

albareplaysjobim.com


UPC CODE

9324690189793
---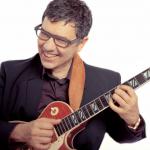 Special Guests:Randy Brecker, Nestor Torres, Antonio Sánchez
Guitarist and composer, Albare was born in Morocco and grew up in Israel and France. Although he joined at age 8 the Music Conservatory in his hometown in Israel for 2 years, his musical development was completely self-taught. These days, as Albare has lost his central vision faculties due to an genetic illness, his playing is completely by ear.
In 1972 Albare discovered the sound of Jobim while watching Marcel Camus's cult film, Orpheus Negro. The haunting melodies and unique compositions left a profound impression on the young guitarist and inspired Albare to study and play the melodic style for which he is now known for.
After the great success of Albare plays Jobim Volume 1, it only made sense to release a Volume 2.
© COPYRIGHT ALFI RECORDS | Web Development & Design by Papdan.com