TRACK

LIST
1.The Magnificent Seven

4:41

2. Bewitched

3:30

3. Midnight Cowboy

4:35

4. Goldfinger

4:14

5. Legends of the Fall

3:53

6. Mission Impossible

3:17

7. Exodus

4:09

8. The Good, The Bad And The Ugly

4:33

9. Another Story

4:03

10. The Shadow of Your Smile

5:48

11. Tender You

4:58

12. Moon River

3:59

13. Taxi Driver

4:00

14. Love Story

5:38

15. Schindler's List

4:01

16. Something Will Come To Life

3:39
ARTIST

ALBARE

LABEL

ALFI RECORDS

RELEASE DATE

May 06, 2016

ARTIST WEBSITE

albareplaysjobim.com


UPC CODE

724131549824

Albare's Dreamtime
---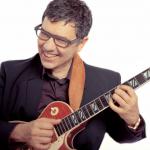 Dreamtime is now out on iTunes and Amazon!
What if we were to redefine the word "cinema?" We think of the movies as something we watch in a communal space and in a darkened room, a set of images with accompanying soundtrack. The video component consists of images that are pre-set in a deliberate sequence in which to create a narrative, and the audio component consists of a mix of words (lyrics and dialogue) and music. But what if we started to think of the movies as a bigger concept than that? What if the cinema were a set of images that played in one's own head, as inspired by a soundtrack of music without words? The soundtrack would technically be instrumental, except that there are always words, even when they're not literally heard on the soundtrack, they're always playing in one's head.
With most jazz albums, one finds oneself listening to notes – whether they're organized as melody or harmony (or usually both) along with beats and tempos. With this record, I find myself listening, if that's the right word, to images and stories. Of lovers walking along the beach, of good guys in white hats saving innocent people from bad guys, of sexy witches on broomsticks, of country rivers that become metaphoric gateways carrying dreamers off to see the big wide world, of spies in tuxedos chasing international evildoers and girls in body paint, of a disenfranchised people rising up, bonding together, and building a nation. It isn't about the notes, it's about the narrative.
Most often in jazz, the use of strings is regarded as a commercial consideration – something to make the listening "easier" and therefore the music more palatable for the wider, non-jazz audience. While no one can deny strings certainly make everything prettier, they serve another, larger purpose here. Most importantly, strings are the most obvious sonic signature of the movies: a large, semi-symphonic contingent of violins and cellos has been the predominant sound of the film industry from Max Steiner to John Williams.
If the strings are the setting, the two main characters are the star guitarist Albare and Joe Chindamo, who is both the piano soloist and the orchestral arranger. It's up for grabs if the two main characters are the leads in a traditional romance – of course, the instruments are gender-free – or a contemporary "bromance." The rest of the rhythm section is Phil Rex on the bass and drummer Pablo Bencid.
So now we have the setting, the cast of characters, and the script itself comes from the songs. "Most of these are themes that I heard in my childhood or early adolescence" says Albare. "All these songs influenced my playing and were like friendly ghosts, somehow, in the back of my mind."
The two inter-related ideas that drive this project (A. strings & B. movie themes) both presented themselves roughly simultaneously. "It was Joe's idea to get my ghosts out in the open. We sat one night, it was summer 2014 in London, we were on tour and it was after a gig and he said something like 'Don't you think it's time you do an album with a string orchestra?'" Albare demurred at first, but quickly relented. "Joe asked me 'What songs are deeply rooted in you, that you feel we could reinvent?' As he said that, I envisioned the Hollywood themes of my childhood. That was the genesis of this project and I am grateful to Joe for initiating it."
If this were a movie, the scene would flash forward to less than a year later, to a scene in a recording studio in Melbourne wherein Albare and the trio are now recording this album, "with string players from the Melbourne Symphony Orchestra and the Australian Chamber Orchestra. I can assure you we have selected the A team."
The notion of "friendly ghosts" is a compelling one. The tunes in these themes do indeed linger like ghosts in one's imagination: only half-seen; there, but not there. In 'The Magnificent Seven," for instance, Elmer Bernstein's iconic brass fanfare (which today is hugely popular with Policeman's marching bands, as well as other kinds of ensembles) is there, and there's no missing it, but it's understated – Albare never pounds us to death with that unmistakable sequence of notes, nor does he sweep it under the carpet of strings either.
Likewise, of "Love Story," Albare says, "I struggled with the decision as to whether to include it. It's a beautiful song, but at the time of the release of the movie, it was covered by so many artists that it was done to death! So the challenge to me was to give it a new life." Chindamo solved that particular challenge by devising an especially eloquent orchestration, one which gives the central melodic role to bassist Phil Rex. For a split second, the combination of bass solo and strings is reminiscent of one of Charlie Haden's later albums, even as Albare's work with a string background momentarily recalls Wes Montgomery's many orchestral albums of the 1960s. (And likewise, Albare's strength in finding a new way to play a melody and positing in such an ensemble briefly makes me think of him as a sort of Chris Botti of the guitar.) However, all of these observations are also no more than passing ghosts – fleeting thoughts inside my head that are soon replaced by lovely images.
There are also three new pieces here, composed expressly for this combination and this album. "Something Will Come to Light and "Another Story" are originals by Joe, originally introduced in his 2007 album The Romantic Project, which he extensively retooled for the current romantic project. Albare tells us, "These songs were included, very simply, because I love them and I feel they should be movie themes." "Tender You" is the only original by Albare, because, he says, "I wanted to make my own mark there against all those great themes. Perhaps also because I have never done a CD without writing the vast majority of the material and I can't completely switch off that mindset."
One thing that ghosts have in common with dreams is that characters often return and re-occur as transformed into different shapes and personas. In their re-imagining of "The Good, the Bad, and the Ugly," it no longer seems to be the theme song for a tale of violence, but now it sounds like a love song. "Schindler's List" is no longer a cataclysmic tragedy, but a minor key mystery. "Mission Impossible" now sounds like a set of clues being worked out. "Midnight Cowboy" – and this is the actual theme by John Barry, not the hit song "Everybody's Talking" – is another fascinating case. Allegedly this classic 1969 film starred Jon Voight and Dustin Hoffman, but as everybody knows, the real star was the city of Manhattan at its most run-down and seediest. This take on "Midnight Cowboy" is quite a contrast, Albare and Joe have rethought the story as tale of hope rather than one of darkest despair.
In all cases, the melodies are familiar, but the stories are new. As this album gets closer and closer to its end titles, it seems clear that Albare and Joe Chindamo have created more than a set of "covers" (don't you hate that word?) or even fresh interpretations, but something entirely new: an approach turning familiar Hollywood themes into brand-new movies of the mind.
-Written by Will Friedwald (Wall Street Journal/Vanity Fair)
© COPYRIGHT ALFI RECORDS | Web Development & Design by Papdan.com